The two-bedroom apartment is located in an excellent location, just 100 meters from the beautiful beach. This comfortable and modern apartment offers an ideal retreat for families or groups of friends who want to enjoy being near the sea.
Inside the apartment there are two spacious bedrooms that are elegantly furnished and equipped with all the necessary amenities for a peaceful sleep and relaxation. The kitchen is fully equipped with all the necessary appliances and dishes for preparing delicious meals.
The main attraction of this apartment is definitely the beautiful terrace. Here you can spend pleasant moments resting on comfortable garden furniture, enjoying the fresh air.
Given its proximity to the beach, this apartment provides convenience and ease of access to the sea, allowing you to enjoy sunbathing, swimming and various water activities throughout the day. The apartment offers one parking space in the yard of the house, free of charge.
PAK 003-03

4 Beds
Beds:
2
Extra beds:
2
Number of rooms:
2
Bathrooms:
1
KITCHEN
Kettle, Microwave, Hood, Dishwasher, Dishwasher, Freezer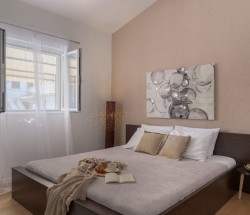 Sojourn tax is included in the price
Extra bed (5,6): included in the price