Do You want to experience robinson's way of life, this is the place for You, come to the Pašman island
Newly renovated robison house "Blanka" is the ideal choice for escape from civilization and quality vacation in symbiosis with nature.
The house has capacity for 4 persons, two bedrooms with double beds, spacious living room, kitchen, bathroom with shower and spacious terrace with a sitting set.
It is located just by the sea, in the bay of Božanska, Lanđin, on the island of Pašman. The house is not accessible by car as improvised roads on the island are not recommended for cars that are low on the road, and the roads to the house are steep.
Your vehicle can also be left in a free and secure parking lot in Biograd na Moru next to the owner's house.
The owners are very kind and after your arrival in Biograd with their boat will take you to your accommodation. Driving to the bay takes about 45 minutes. If you would like to arrive faster at your destination, it is possible to rent a speedboat (shuttle) at an extra cost. In that case the ride would last 20 minutes. It is also possible to deliver food once a week by the host. Towels and bed linen are changed on a weekly basis.
Electricity is alternating (220/120 V) and special attention must be paid to its savings. The kitchen is equipped with a refrigerator with a freezer, since the use of other kitchen appliances (except toasters) is not possible.
The house on the terrace has a well with rain, and it is necessary to boil water for use. In these conditions it is necessary to conserve water very sparingly, and guests mostly decide on the purchase of drinking water.



Hot and cold water is installed in the bathroom and kitchen.



The property has a spacious covered sunbathing area with deck chairs and a sitting set.



Motorboat rental is also available on request with an additional charge of 40 € / day provided that the guest 
must have a valid license for the boat leader.



The road across the hill leads to the improvised road leading to Tkon where ferry port is located.
 If you would like to go to Tkon by foot it would take you about an hour. The Pašman Island is connected to the mainland,
 and the ferry from Biograd to the sea lasts for about 15 minutes. The high-season lines run almost every hour 
or more than ten times a day.



Please note that pets are not allowed in this property.



Reservations are possible for a minimum of 7 days.



The deposit is 200 € and is delivered to the hosts who return it when checking the object. If no damage has
 been done to the accommodation, the deposit will be returned.
Blanka

4 Beds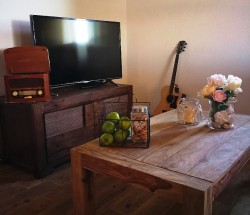 Sojourn tax is included in the price